Radiant Touch Weddings













...LGBTQ Weddings & Celebrations
LGBT Weddings:

Radiant Touch Weddings is very pleased to finally be able to perform legal same-sex weddings in Oregon & Washington!! Beverly has been performing commitment ceremonies for many years and has already performed many gay and lesbian weddings since 2014. Elopements, Weddings, Celebrations. View more Elopement Packages available at www.ElopeInOregon.com
Celebration:

Gay & Lesbian Same Sex Marriage, LGBTQ:

I will perform a beautiful ceremony for you! Any location!

Preferred Officiant:

Beverly Mason of The Radiant Touch Weddings is featured on EngaygedWeddings.com,
 the leading gay marriage wedding network in the Country!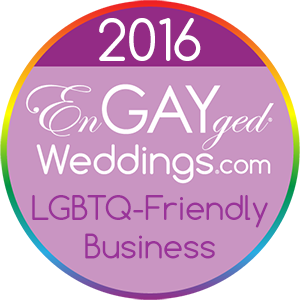 Review: December 31, 2014

Dear Beverly,

Thank you so much for officiating our wedding today. We never imagined that we would ever have a wedding which makes this even more special. 

We appreciate you taking time out of your holiday to do this for us. This is a day we will never forget.

Again, Thank you. Warmest Regards, Paula and Mary

They asked for a simple ceremony. But when I heard they had two little girls... I turned it into a magical fairytale wedding just for them.

From Alaska & Texas. They chose to Elope In Oregon with Radiant Touch Weddings "Enchanted Elopement"

Before it became legal marriage... so I became a Notary just so that I could make the Domestic Partnership legal after the ceremony.

This handsome couple traveled from Israel to Elope In Oregon with an Enchanted Elopement Package.

We provided the setting, décor, witnesses and photography. It was magical!